So...my retail job's got a hold of almost all of my work ethic and motivation, which helped me get a fake promotion recently. That started with me being vaguely interested in actually being promoted, but the way in which I was suddenly thrown under the proverbial bus as a haphazard solution has turned me supremely off to the idea. Regardless, they are still "training" me as a backup. Now, I know my heart has purposefully allowed all of this so I can avoid sorting through my musical soul being torn to pieces after learning many hard truths from living in Los Angeles. And COVID beginning immediately after returning from that heartbreak just created the perfect storm. It's been almost two years and I'm still not okay. It's no joke that every drop of self-discipline I have goes into not killing myself today. It's been working so far, but I can see myself getting handed the straw that broke the camel's back eventually.
Anyways, that also means there's very little self-discipline with my creative sides. Within these two years, I've kept taking on seemingly easy promises for others that I've failed to keep, and clearly that doesn't feel good either. The only thing I managed to accomplish was for the NG Orchestral Competition, which was very fulfilling and I'm thankful for it:
But...now I'm trying hard to do something in time for the Art-Inspired Music deadline, as well as a bunch of other outside projects that kind of have a similar summer deadline. I dunno if I can do it. And yet...amidst all the stuff I struggle to light the fire under my butt to do, something suddenly clicked, maybe a week ago, that I don't necessarily have a hard time throwing up: improvisational piano miniatures (...)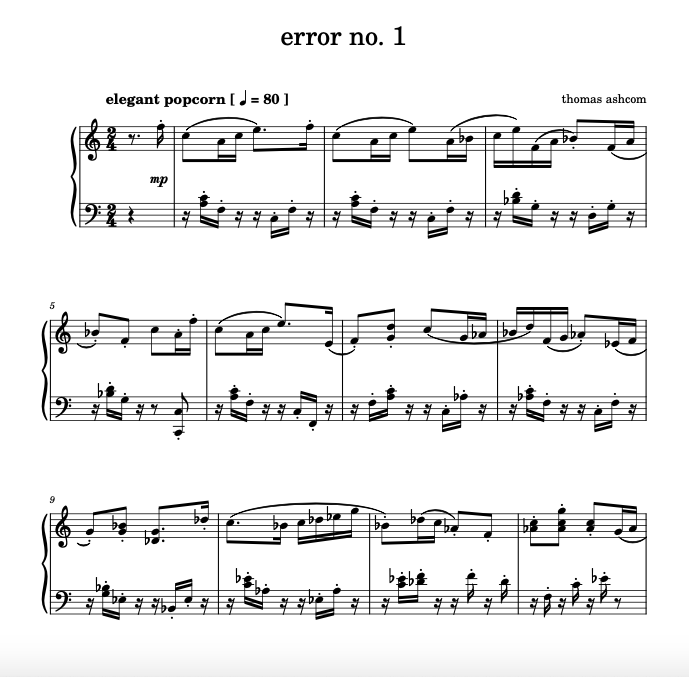 It began with this one (that's just the first page of it whoa please don't NFT it) and now I've got a set of "errors" that is already five strong and has a sixth on the way. I think these clicked because it's something for my own purpose, something I'd have full control of performing by myself right now, and something perhaps another pianist could try out some day because it's written down...sigh I can dream I guess.
In conclusion, I mostly wanted an excuse to post some sheet music I did and it'd be nice if people found that interesting or were excited about it. Otherwise I'm fully vaxxed and yeah whatever...der-pression is real and music does nothing and is uselessly around while you're on the phone with the bank begging for fiscal mercy tHAnKs oBaMA!
~ said ZipZipper